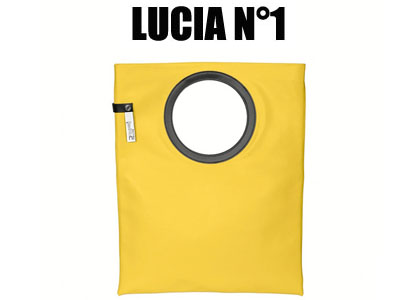 History and biographies have always fascinated me. The sources of inspiration for my projects, whether of architecture or design, are often female figures. Their stories speak of talent, vision, new languages ​​and an almost total absence of social recognition. For some years now, I have decided to link my design directly to their memory. The names of the Dampaì design objects-to-wear are a tribute to the female personalities that I feel closest to me.
One of these is the Italian architect and designer Lucia Bartolini, from the design group Archizoom.

Archizoom, 1968. From left, Andrea Branzi, Gilberto Corretti, Paolo Deganello, Massimo Morozzi, Dario and Lucia Bartolini. Photo © Studio Branzi
To Lucia
In 1968 Lucia Morozzi Bartolini and her husband Dario joined the Archizoom group, founded in Florence in 1966 by Andrea Branzi, Gilberto Corretti, Paolo Deganello and Massimo Morozzi, who remains one of the most authoritative voices of radical architecture *.
The Archizooms embraced many areas of creativity and design, from the design of objects, to clothing, and from furniture design to large urban-scale proposals, interpreting the ideals of a generation that believes in a humanity freed from the constraints of architecture and struggles to affirm alternative cultural concepts, hoping for a nonconformist lifestyle and total freedom. The group embraced the idea of ​​polychrome and festive architecture and design, defined as "pop". Following the lines of pop, and with the desire to stimulate individual creativity and imagination, provocative creations were often created, such as the famous Superonda and Safari sofas for Poltronova and the Mies Chair, in open contrast with the theories then in vogue of functionalism. An example was their installation at the exhibition held at MoMA in New York in 1972, "Italy: the new domestic landscape", where Archizoom installed the Gray Room, an environment animated by the voice of a woman who described a beautiful colorful house, in which there would be no obstacles to the space. Design therefore becomes a manifesto and comes closer to the artistic approach…

sofas Superonda for POLTRONOVA 1967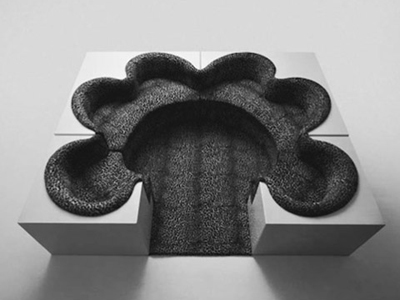 sofas Safari for POLTRONOVA 1966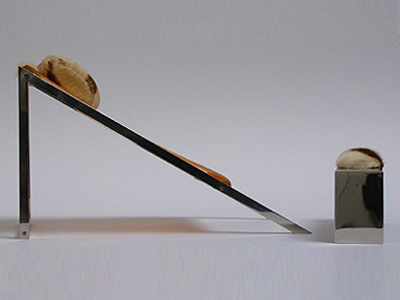 Mies Chair for POLTRONOVA 1969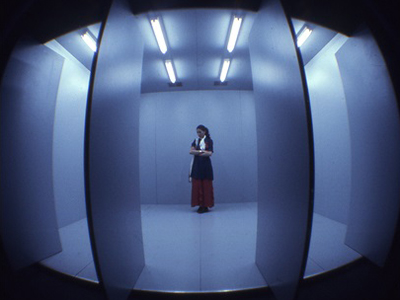 Grey Room – Installation at MOMA in New York 1972
«getting dressed is easy because elegance has died».
The first exploration into dress as an elementary form of human habitat, from which the collaboration with Fiorucci originates, is from the same period: it is the "Dressing is easy" (Dressing Design) project, presented at the XV Milan Triennale.
The group dissolved in 1974.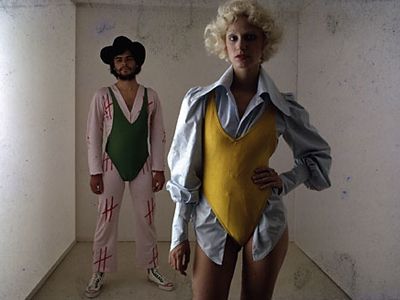 Dressing Design, filmed by Olivieri Toscani, 1972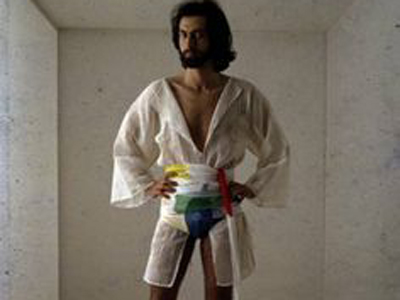 Dressing Design, filmed by Olivieri Toscani, 1972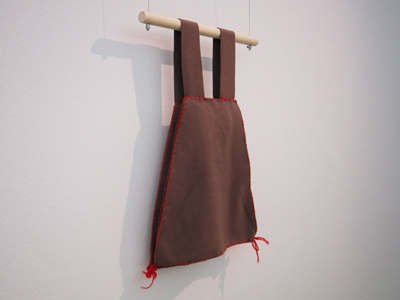 Lucia Morozzi Bartolini apron bag, 1973 Palazzo Strozzi 2017
exhibition "Radical Utopias: beyond Architecture. Florence 1966/1976 "- photo © Inexhibit
Getting Dressed Is Easy (Dressing Design)
Taken from the blog: https://bau-house.blogspot.com/2015/07/vestirsi-e-facile.html
It was 1971. After more than forty years, and when working in a group, it is impossible to assign the origin of an idea to a single member, even if this time it was easier: it was Lucia, the only one among us able to sew, who started first. Others worked around her, each making their own contribution, so "Dressing is easy" (Dressing Design) began.
Why "easy"? Because it was the hard core of the group's design philosophy: creativity is a widespread gift, freeing us from the stupid claim that makes it the privilege of a few. Also because the habits of fashion did not satisfy us: why wear clothes to meet the label of needs and occasions imposed by society? Why can't I dress as I please because of my mood and my personal desire to appear a certain way? These were ideas shared by the group.
And to her way of dressing Lucia applied the other philosophies common to us: simplicity, the elimination of complicated procedures, the freshness of thought, and finally courage. This was made into a cutting and sewing system illustrated with drawings and videos, Vogue did an article photographed by Oliviero Toscani who publicly launched the idea, and we looked for and found a sponsor willing to finance it: Elio Fiorucci himself, who had opened a fashion and style store in Milan, and who shared the idea and presented it to "Mare moda Capri" which was held in Capri in that summer.
We had two tickets to participate in that event and there were about ten of them: no problem, said the Neapolitan friends who joined us. They studied the place and found a point where the villa, in which the event was to take place, connected discreetly with the outside world and was unattended: there, the first two to enter went to deliver the tickets to two others and so on. . .We all entered. "Dressing is easy" seemed so unusual and perhaps indiscreet to the models who lent themselves to runway shows, to the rhythm of rock music; I believe that few managed to understand what they were wearing.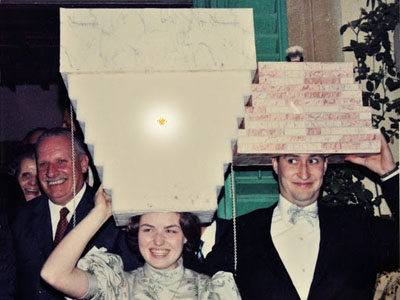 Lucia and Dario on their wedding day when they wore two hats / miters that were supposed to ring and emit light when struck, Archizoom's gift.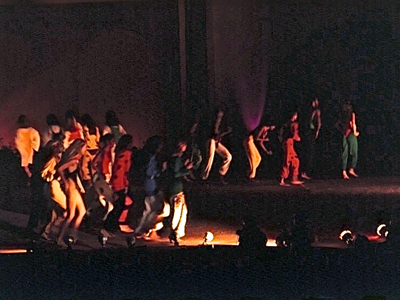 "Dressing up is easy" fashion show at Mare Moda Capri – summer 1971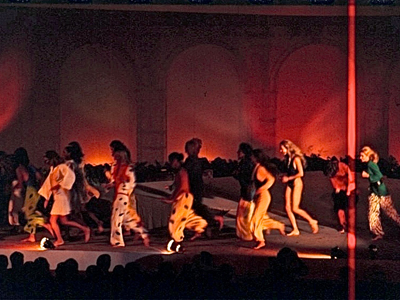 "Dressing up is easy" fashion show at Mare Moda Capri – summer 1971
* Radical architecture is an experimental movement that developed in Europe in the years 1960-1975 and which encompasses a series of experiences in various disciplinary fields that have in common the need to break with the design and functional discipline carried out in university institutions.