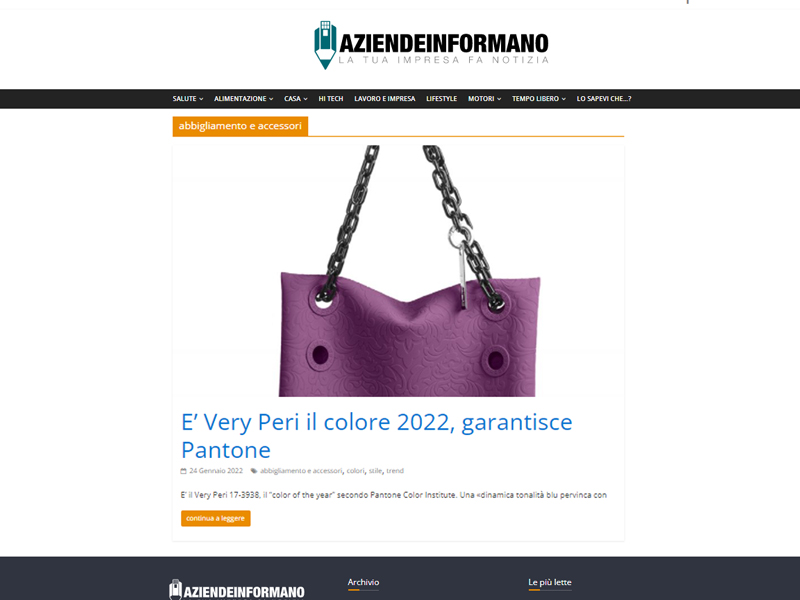 Often behind good news there is the work of companies, professionals, associations and institutions. The portal Azienda Informano  presents products, services, initiatives, events and studies from Italy that never stop coming. And we are there too with the versatile Cini N ° 2 in damasked silicone in Very Peri color, the shade chosen by the Pantone Color Institute to portray 2022: https://www.aziendeinformano.it/2022/01/24/very-peri-colore-pantone-2022/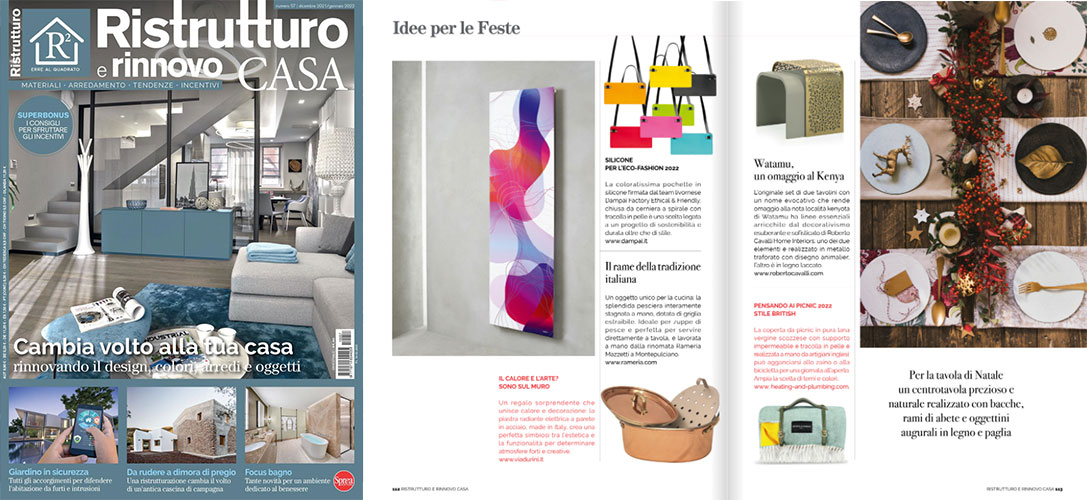 Ristrutturo e rinnovo casa, the historic bimonthly magazine dedicated to renovation,  is aimed at all architecture lovers and professionals in the sector. It is a precious point of reference in all cases where you have to face a partial or total renovation of your home. In the December 2021 / January 2022 issue, in the "Party Ideas: Design Christmas" section, our stylish silicone clutches stand out, with their eco-friendly, durable and recyclable material.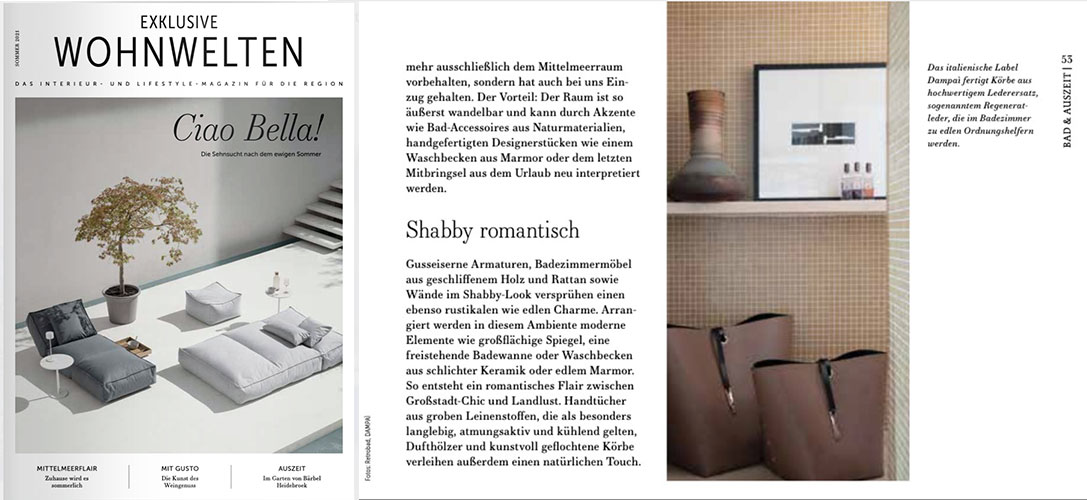 Since 2008, the elegant German magazine Exklusive Wohnwelten has been dealing with furniture and lifestyle, with an in-depth focus on seasonal news and trends. In the "Summer 2021" issue, the magazine highlights our baskets for the home (big, medium and small) in regenerated leather, an eco-friendly material that we have chosen to make our small contribution to protecting the environment. Practical and decorative, they integrate with any type of furniture and lend themselves to containing objects of all kinds.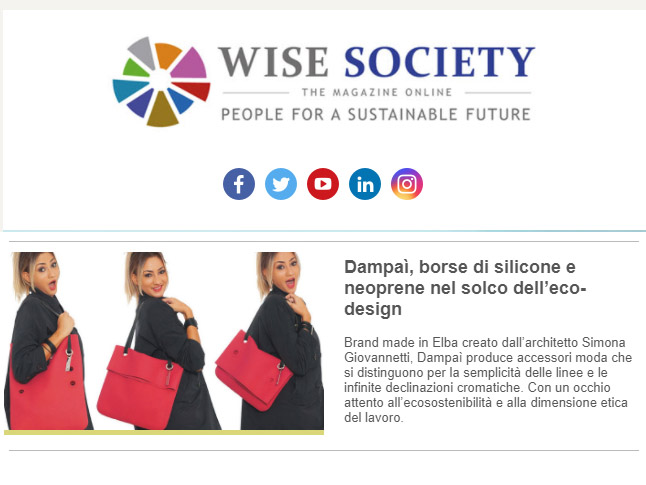 Virtuous projects, company best practices, and testimony from entrepreneurs, researchers, and creative people committed to promoting a new way of doing business, more attentive to the well-being of the individual and the environment. Wise Society is an international multimedia platform dedicated to improving the quality of life in an ethical and sustainable way. In this interview (https://wisesociety.it/energia-e-impresa/dampai-dal-silicone-al-neoprene-nel-solco-delleco-design/) Simona Giovannetti, creative soul of Dampaì, talks about eco-design , "wear aware" and the ethical dimension of work.

Bimonthly for pregnant women, 9 months offers many tips to better deal with pregnancy, the moment of childbirth and the period immediately following. The April / May "Shopping" section, dedicated to fashion accessories for spring, hosts our versatile and colorful Pouch and Pouch-Small, silicone clutch bag with spiral zip and logoed zip puller, to be carried by hand or on the shoulder thanks to the shoulder straps interchangeable.

Bimonthly printed in New York and distributed nationwide, Art Bodega Magazine combines editorial content, celebrity news as well as a guide to the latest hotspots and trends in fashion, health, fitness, culture, travel, beauty and more. . In the "The Item List" section of the Spring 2021 issue, the set of Bernardino silicone bracelets with logoed steel bar stands out.

Very popular news weekly, Vero is a well-balanced cocktail of news, stories and characters. In the "Moda stile" showcase of n. 11/2021, among evergreen garments, seductive proposals and irresistible accessories there is also our creative Bernardino , a set of multi-strand silicone bracelets with a logo-ed steel bar.

In its second year of life, the elegant Algarve Plus Magazine fully explores lifestyle, fashion, food and iconic places. In the March issue, the "Up front" column features Lucia n°4 in silicone, enhancing the chromatic range and the different customizations.

Born to bring our country closer to English-speaking readers all over the world, Italy! is a magazine dedicated to our excellence, from places to food and wine, from culture to fashion. In the February / March issue, the "Top Picks" space presents Cini n °2 in silicone, defined as "bag of cool".

Travel often, live well. Even in this difficult moment the spectacular Drift Travel Magazine continues to show us the world in its infinite facets. And to make us dream. In the Winter 2021 issue, inside the "Travel Gear" showcase, our Lilly and Cini n °1, both in regenerated leather, show off their exceptional versatility.

The first Italian magazine dedicated to pregnant women, 9 months offers serious and targeted advice to deal with the magical and delicate moment of pregnancy. In the "Shopping" section of December / January 2020/21 a flamboyant Lucia n °1 in regenerated leather is presented in two of its four combinations.